WONDERS OF THE ARCTIC
Amin loved breaking away from his synthesizers to work with an orchestra again. Whenever he changes a sonic palette, the result is that each enhances the other. Producers have commented that this is one of his most romantic scores.
Along with the Toronto Symphony and Opera orchestras, Amin was honoured to work with northern Canadian artists Tanya Tagaq and Jean-Paul de Roover.
---
Amin loved breaking away from his synthesizers to work with an orchestra again. Whenever he changes a sonic palette, the result is that each enhances the other. Producers have commented that this is one of his most romantic scores.
Along with the Toronto Symphony and Opera orchestras, Amin was honoured to work with northern Canadian artists Tanya Tagaq and Jean-Paul de Roover.
---
Blood Honey
Blood Honey is a brooding thriller set on a beautiful island with a dark family secret.
Written and directed by Jeff Kopas and starring Shanae Grimes-Beech, Kenneth Mitchell, Gil Bellows, Krystal Hope Nausbaum, and Don McKellar, a woman with childhood trauma returns after a decade to her family's fly-in hunting lodge to assist her siblings with their dying father, only to find herself stuck in a life threatening nightmare. See the official Bood Honey website for more info and images.
---
In The Dark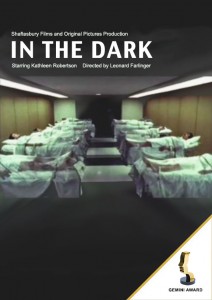 A made-for-television movie, this Gemini Award winning thriller is directed by Leonard Farlinger ("The Perfect Son") and stars Kathleen Robertson. Amin Bhatia won a 2005 Gemini Award for the music composition.
The musical score for Shaftesbury's "In The Dark" was written and produced by Amin Bhatia, with additional music by Meiro Stamm. Awarded a 2005 Gemini Award for music, the music is edgy and modern, pulsing and skulking throughout the mystery. Like the story itself, the music never gives away the characters' secrets.
Cast: Kathleen Robertson, Michael Murphy, Joanne Vannicola and Fiona Reid.
Producer: Christina Jennings
Co-producers: Laura Harbin, Virginia Rankin
Co-executive Producers: Kim Todd, Scott Garvie
Director: Leonard Farlinger
Scriptwriters: R.B. Carney, David Fraser
Music: Amin Bhatia, with additional music by Meiro Stamm
---
Under Heavy Fire (Going Back)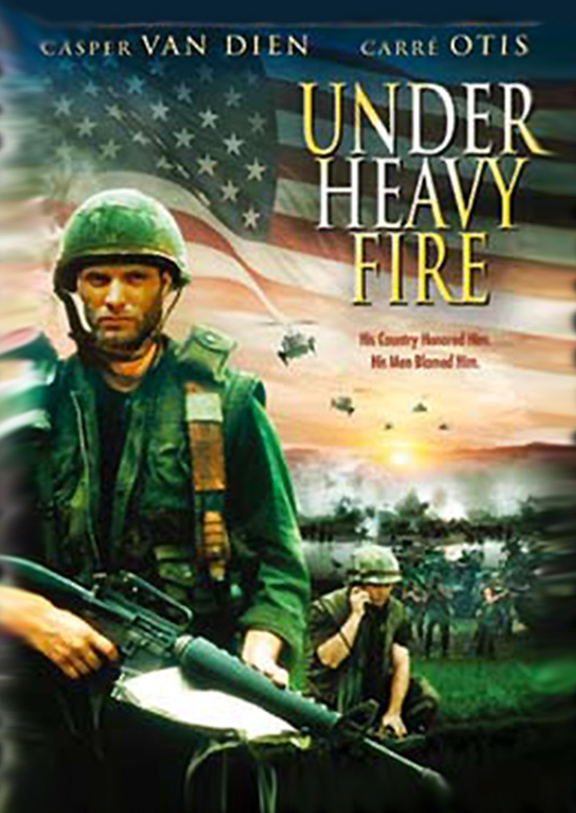 Originally called Going Back, Under Heavy Fire is an action/thriller set in Vietnam. It is the story of a TV-network covering a reunion for one of the hardest-hit American units of the Vietnam War: a story that becomes a final battlefield for the surviving marines of haunted Echo Company. From director Sidney Furie of "Boys in Company C", starring Casper Van Dien and produced by GFT Entertainment.
The sweeping score was performed by the 65-piece Munich Symphony Orchestra, conducted by Allan Wilson (conductor of the score for Sleepy Hollow). Amin was happy to be teamed up once again with orchestrator Jamie Hopkings and score mixer Cory Mandel. The three last worked together on the IMAX feature "Gold Fever". Assisting with music editing and orchestral programming was composer Ari Posner. Finally, Amin had a blast working with director Sidney Furie. This is their first project together since completing "Iron Eagle II".
---
John Woo's "Once a Thief"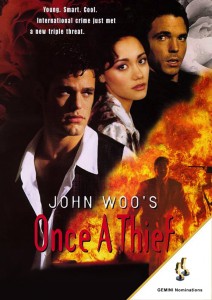 This 1996 made for TV movie is a remake of the original Chinese release directed by John Woo.
The signature John Woo action sequences of Once a Thief went on to inspire a television series of the same name.
Amin Bhatia was the music composer for both the movie and the series.
Starring: Sandrine Holt, Nicholas Lea and Ivan Sergei
Director: John Woo
---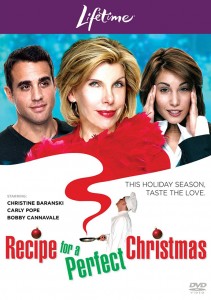 Recipe for a Perfect Christmas
JJ Jenner's orderly life is turne
d upside
down when her estranged, free-spirited mother, Lee, shows up unannounced to stay for the holidays. Desperate to get some work done, JJ sets her mom up with Alex, a sweet and ambitious young chef, in exchange for reviewing his restaurant. When writer's block suddenly hits, JJ begins to realize that her true feelings for Alex may be the problem.
Starring: Carly Pope, Christine Baranski and Bobby Cannavale.
Director: Sheldon Larry
Writers: Rachel Feldman and Susan Nanus
Music by Amin Bhatia and Ari Posner
---
Jambo Kenya
Eleven kids sign up for a trip to Kenya. With no clear idea of what's ahead. Some don't know that they'll be teaching kids in a local village. And some don't know that they'll end up building a school house "from scratch". And for sure, no one expects to be chased by a wild elephant! All this happens and more.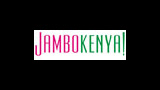 Despite growing up on the Discovery Channel they just aren't prepared for the breathtaking beauty of the landscape and the friendliness of the people. Or the stoic calm with which the people accept their lot. No clean water. Shacks for homes. Dark and dingy classrooms. This isn't a make-believe movie shot on a fake movie set. Jambo Kenya! It's Africa for real!
Jambo Kenya! was produced and directed by award-winning Lalita Krishna and Insynch Video for TVO and debuted at the Spockets Film Festival. The music is produced by Amin Bhatia with original songs written and performed by Adam Solomon.
---
Criminal Instincts: The Joanne Kilbourn Mysteries
The Wandering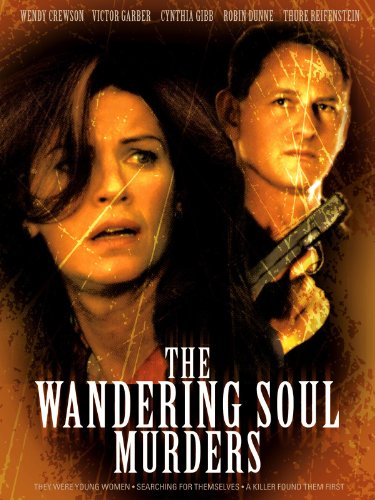 Soul Murders and A Colder Kind of Death are made for televisionmovies produced by Toronto's Shaftesbury Films originally aired on CTV.Adapted from

the Joanne Kilbourn Mysteries, Gemini Award winners Wendy Crewson (Airforce One, The Sue Rodruigez Story) and Victor Garber (Sleepless in Seattle, Titanic) are back in their roles as ex-cop Joanne Kilbourn and Police Inspector Philip Millard.
Stars
:
Wendy Crewson
,
Victor Garber
and
Robin Dunne
Criminal Instincts Theme by Meiro Stamm.
Music by Amin Bhatia with additional music by Doug Pennock and Blair Packham.
---
Wildfires! A Firefighting Adventure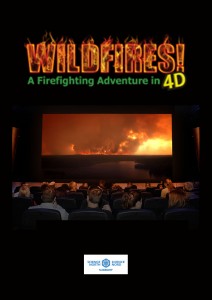 This is an IMAX experience in 4D taking you into the heart of a major forest fire to give you a close-up and unforgettable look at how fires are created and ultimately controlled and how scientific research and practical experience have combined to develop effective forest fire fighting techniques used today.
David Lickley, Science North's Director of Large Format Films and Rob Gagne, Science North Senior Producer, have been recognized with the Director's Guild of Canada – Ontario Director of the Year award for their work on Wildfires! A Firefighting Adventure in 4D. James Lahti, who served as editor on the Science North Wildfires! production, was also awarded a 2012 Music in Film and Motion Award for Film Editor of the Year.
This Science North project offered Amin Bhatia and his crew to work using remote recording with the Bratislava Symphony Orchestra.
Producer/Director: David Lickley
Associate Editor/Producer: James Lahti
Music Composer: Amin Bhatia
Orchestrator: Jamie Hopkings
Conducted by: Peter Fuchs
Mixed by: Scott McCrorie
---
IMAX Mysteries of the Great Lakes
This was another IMAX adventure that Amin scored for award winning director David Lickley.
Amin was also honoured to arrange The Wreck of the Edmund Fitzgerald written by Gordon Lightfoot as well as work with composer Micky Erbe who orchestrated and conducted this project.
---

IMAX Jane Goodall's Wild Chimpanzees
This stunning IMAX film is a giant screen journey into the hearts, minds and world of these wild chimpanzees with the world's most famous field researcher, Dr. Jane Goodall. The film immerses the audience in the forest environment of Gombe National Park with a soundtrack that includes the music of Johnny Clegg.
Dr. Jane Goodall's legendary work with the chimpanzees of Tanzania's Gombe Stream National Park is the subject of this remarkable film co-produced by the Science Museum of Minnesota, Science North, and Discovery Place, Inc.
Produced and directed by: David Lickley
Edited by: James Lahti
---
IMAX Gold Fever
With IMAX, witness our enduring quest for the eternal element as it comes to the large screen. This beautiful film follows prospector Al Doherty and his dog Blue as Al continues his 24 year search for his gold mine. Gold Fever interweaves a wilderness journey into the historical Klondike Gold Rush with exotic side trips to Thailand, India and Africa documenting the cultural,economic and historical significance of gold.
SCIENCE NORTH, acknowledged as one of the world's leading science centres, has created and developed high-quality television, film and multi-media theatre productions. GOLD FEVER was Science North's first large format film production. More info…

---
RESCUE HEROES: THE MOVIE
Bigger and even more exciting than the television show! The animated Nelvana adventure film features the daring team of emergency response professionals ready and willing to race to trouble spots all over the world. Equipped with the latest information and cutting-edge technology, they put themselves in the "line of fire" to protect innocent civilians whose lives are in danger. Whatever the crisis, the Rescue Heroes, with teamwork and perseverance, will be there!
The score for this feature film was created by Amin Bhatia with orchestrations and additional music by Ari Posner. Guest musicians included guitarists Blair Packham and Jason Fowler. The main theme was based on the television series theme written by Martin Kucaj. All these talents were brought together by the baton of orchestrator/conductor Jamie Hopkings and performed by members of the Toronto Symphony Orchestra. The orchestral sessions were recorded by David Greene and the final result is an exciting and adventurous score highlighting danger, friendship and adventure.
---
Iron Eagle II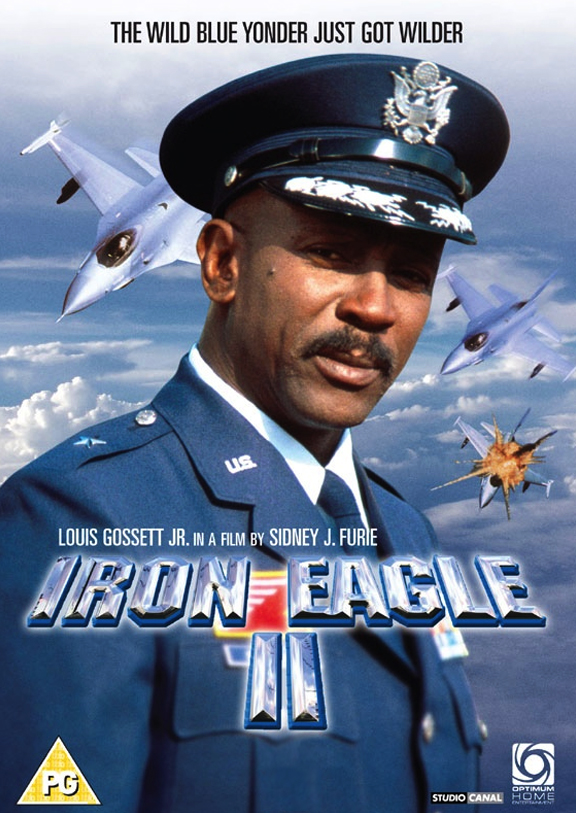 This 1988 action film directed by Sidney J. Furie, is the first sequel to the 1986 film Iron Eagle, with Louis Gossett, Jr. reprising his role as Charles "Chappy" Sinclair. An uncredited Jason Gedrick also returns as ace pilot Doug Masters in the film's opening scene.
This was Amin's first Hollywood feature film score, and was recorded and mixed by award winning engineer/producer James Porteous.
Starring: Louis Gossett, Jr, Maury Chalkin
Written by: Sidney J Furie and Kevin Elders