THE PLANET: Music from the films of David Lickley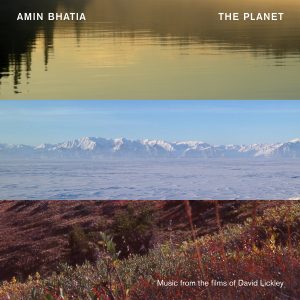 The Planet, distributed by Triplet Records, premieres on Earth Day (Monday April 22, 2019) on iTunes, others to follow.
Amin Bhatia's fourth album features music from the films of filmmaker/biologist David Lickley. The music, a symphonic soundtrack of suites from three Canadian films about the environment and eco-system of our planet, was composed by Amin Bhatia and features a full size orchestra comprised of Canada's finest session and orchestral musicians.
Performer and recording credits, film synopses, and soundtrack inspirations are in the liner notes available at iTunes.
WONDERS OF THE ARCTIC: Expansive sound with contrasting intimate pieces. Grand themes expressed by the full orchestra and unifying themes on piano and French horn.
GOLD FEVER: The warmth and reverence of gold in orchestral majesty, with human innovation and longing depicted through contemporary guitar instrumentation.
MYSTERIES OF THE GREAT LAKES: Delicate adagios portraying a Garden of Eden, with contrasting strident heavy marches that represent natural power and human-made conflicts.
To download the iTunes liner notes, learn more about The Planet and to contact Amin for interview requests…
---
VIRTUALITY & BOLERO ELECTRONICA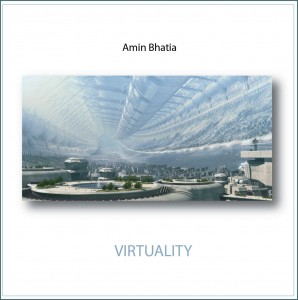 It's taken a long time, but "Virtuality" is a worthy successor to the legacy of "Interstellar Suite." – Craig Anderton, EQ Magazine
Completed between his film and television scores and a recent Emmy nomination, Amin Bhatia's "Virtuality" is the 2008 sequel to "The Interstellar Suite".
The album includes not only an audio historical tour of synths, it showcases guest appearances by Steve Porcaro and Patrick Moraz. Instruments used are both virtual and real using state of the art software synthesizers, as well as soloists from the Toronto Symphony and Opera Orchestras. The acoustic sessions were orchestrated and conducted by Jamie Hopkings.
"Anyone that has ever heard Bolero understands how the piece evolves over time. To have captured that with the historical evolution of synthesizers, from just a few individual manufactures to the opulence we have today, is just absolutely too brilliant for words!" -MATRIXSYNTH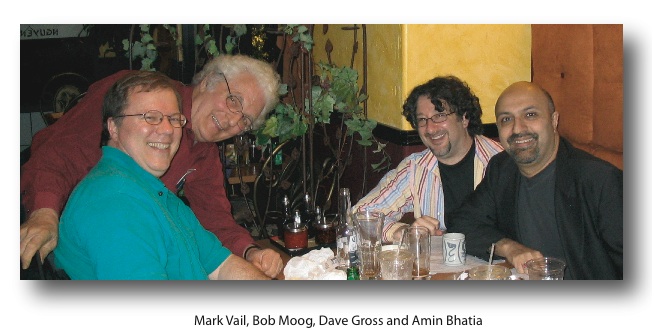 "Virtuality" is dedicated to synth pioneer Bob Moog, and was released on the anniversary of his birthday, May 23, 2008. Bob Moog, was involved in the production and was scheduled to provide a narration track for Bolero Electronica until his passing in 2005. This album is dedicated to him for his vision and support. A portion of every album sale goes to the Bob Moog Foundation.
---
REQUESTS FROM THE VAULT: a Retro Voyage into Vintage Synths and Unreleased Demos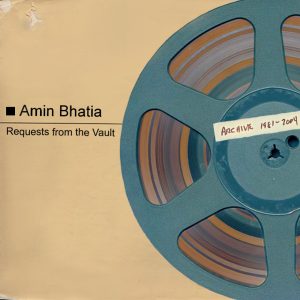 Requests from the Vault by Amin Bhatia was made available privately several years ago to early subscribers to the Interstellar Suite surround sound project, and now is available to all at iTunes, Apple Music and other online retailers.
This retro release from Amin's audio archives includes curated pieces remastered from the original sources using today's state of the art equipment, hardware and software from Universal Audio and noise reduction by Izotope.
More about the release and about how you can download a liner notes pdf booklet…
---

MOTU's BOB MOOG FOUNDATION ENCORE SOUNDBANK
With everything he feels he owes to Bob Moog, Amin Bhatia was thrilled to be an invited contributor in MOTU's Bob Moog Foundation Encore Soundbank. The instrument and percussion sound collection was released to commemorate the musical pioneer's 81st birthday on May 23, 2015.
More than 25 renowned synthesists and sound designers donated original samples to create the Encore Soundbank to raise funds for the charitable Bob Moog Foundation. The foundation was created for educational and historic electronic music preservation work.
Along with Amin Bhatia's samples are those of Vince Clarke, Al Kooper, Jordan Rudess, Suzanne Ciani, Larry Fast, Tangerine Dream (Edgar Froese / Thorsten Quaeschning), Goldfrapp (Will Gregory), Kevin Antunes, Adam Holzman, Erik Norlander, Peter Gorges, CJ Vanston, Drew Neumann, Kevin Lamb, Dave Spiers, Jack Hotop, Jerry Kovarsky, Kent Spong, Klaus Peter Rausch, Taiho Yamada, Michael Koehler, Chris Cox, "Magic" Dave Roberts, Marty Cutler, Marc Doty and I Monster (Dean Honer / Jerrod Gosling).
The MOTU soundbank is available on the MOTU product page.
Amin is proud to support the timeless legacy of synthesizer pioneer Bob Moog and the Bob Moog Foundation. "I learned how to make patches on a Minimoog and to this day I still love learning how to make new sounds from scratch, whether for a piece of hardware or software. Being a part of this is an enjoyable way for me to give back to the Bob Moog Foundation." Amin dedicated his album "Virtuality" to Bob Moog's memory and the album was the first to be officially endorsed by the foundation.
Bhatia's participation in the MOTU collection follows on the heels of the successful Spectrasonics' Bob Moog Foundation's library in 2013. The Spectrasonics collection can be found at the Spectrasonics product page.
---
CIANI, FAST & BHATIA CONTRIBUTE DEMOS FOR MOTU's BOB MOOG FOUNDATION ENCORE SOUNDBANK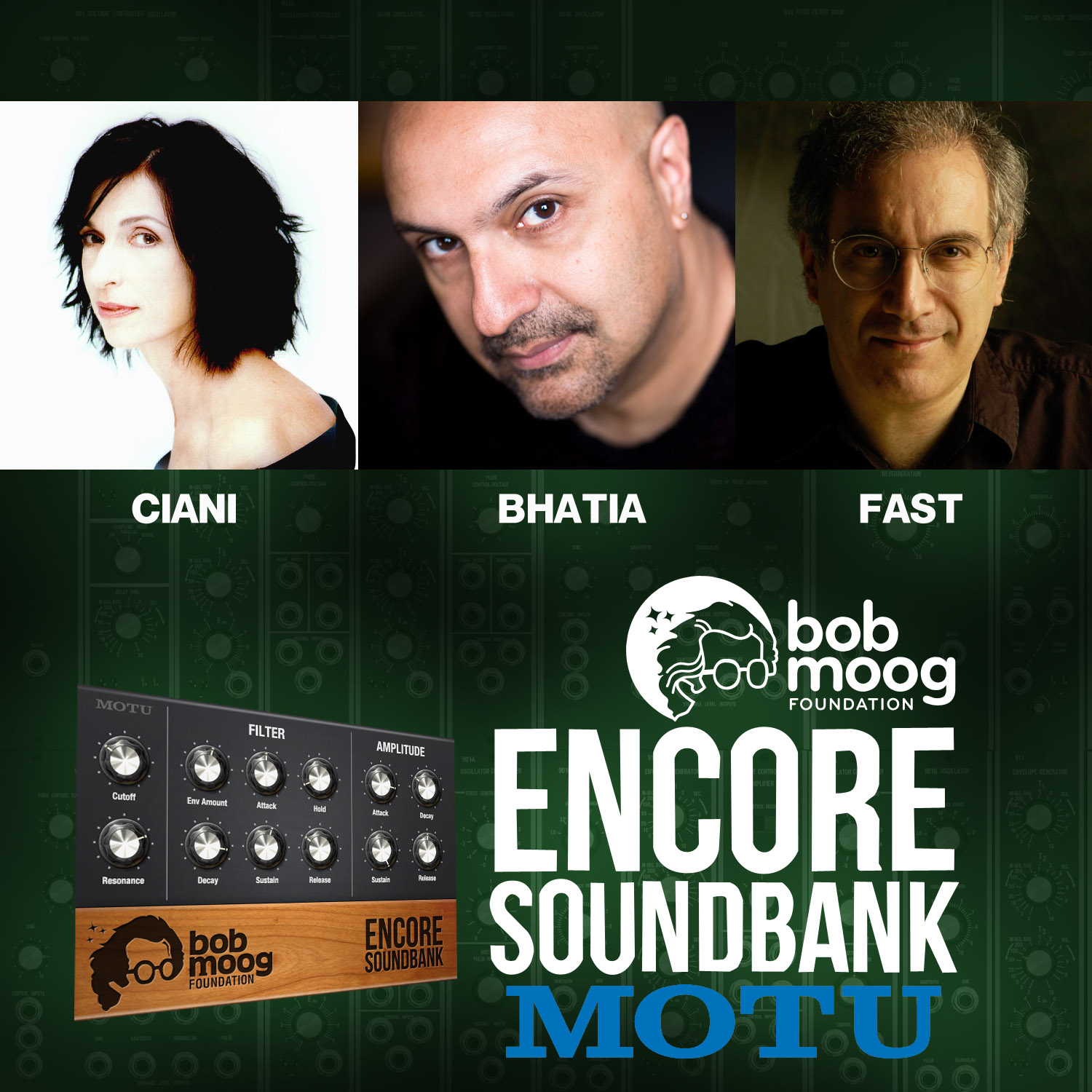 Amin was thrilled to be invited to join legendary electronic music titans, Suzanne Ciani and Larry Fastin in contributing performance demos for MOTU's Bob Moog Foundation Encore Soundbank. The soundbank, released on May 20, 2015, features over 25 legendary artists and sound designers, with proceeds from its sales supporting the educational and historical preservation projects of the Bob Moog Foundation.
Each artist demo ranges in genre and style using only sounds from the database, from Ciani's beautiful and triumphant Aqua Alta and to Fast's shimmering sonic panorama, Spheroid to Bhatia's spirited symphonic romp, Bob MOTU Fiesta. Sounds range from Moog® and Buchla® modulars to the Minimoog®, Korg® MS-20, Yamaha® CS-80, Sequential Circuits® Prophet, and EMS® Synthi A and VCS3.
Amin says about the experience ""This was fun to do but I must confess it's a huge rush to be on the same billing as Larry Fast and Suzanne Ciani. Wow." With any luck, Amin will include this demo into a collection of other demos he's created.
You can hear all the demos at MOTU's website.
---


OMNIVERSE 3 SOUND LIBRARY

Being asked to contribute to the Omniverse Sound Library was an opportunity for Amin to re-visit his days of programming music for actual synthesizers to showcase their capabilities. In this case the library was entirely virtual using Spectrasonics popular Omnisphere virtual synthesizer for PC, Mac and iPad and the Plug In Guru soundbank series created by renowned programmer/synthesist John Lehmkuhl.
John took a unique approach in that the library supported a sci-fi story that he made up in his head and used that as a motivation for sound styles, music demos, graphics and even a comic book story to support it.
Says Amin "being a sci-fi geek I was thrilled to work with John on Omniverse III. When he told me the story of the 'Unverse of Evil and the 'Aurora Borealis Light of Good', well the music pretty much wrote itself."
"Battle for Omniverse" is a tribute to many Jerry Goldsmith chase cues and 80% of the sounds and instruments come from John's amazing library. Learn more at Plug In Guru.
---
FAHRENHEIT BY TOTO

Shortly after winning the Roland International Synth Contest Amin found himself in Los Angeles at a Toto studio, creating the orchestral introduction to title track. He threw in a few other secrets along the way…
When Amin was announced as the winner of the Roland International Synth Contest in the early 80's it lead to his introduction to a new world. One of the many new people he met was Ralph Dyck who subsequently passed his music along to Toto musician Steve Porcaro. To say that Steve was impressed by what Amin could create with only a single Minimoog and a four track is an understatement. In fact, Steve immediately invited Amin to travel to LA in the hopes that Amin would share some of his secrets. To say that Amin was surprised to get the call and the invitation is also an understatement, and he traveled to LA to meet with Steve.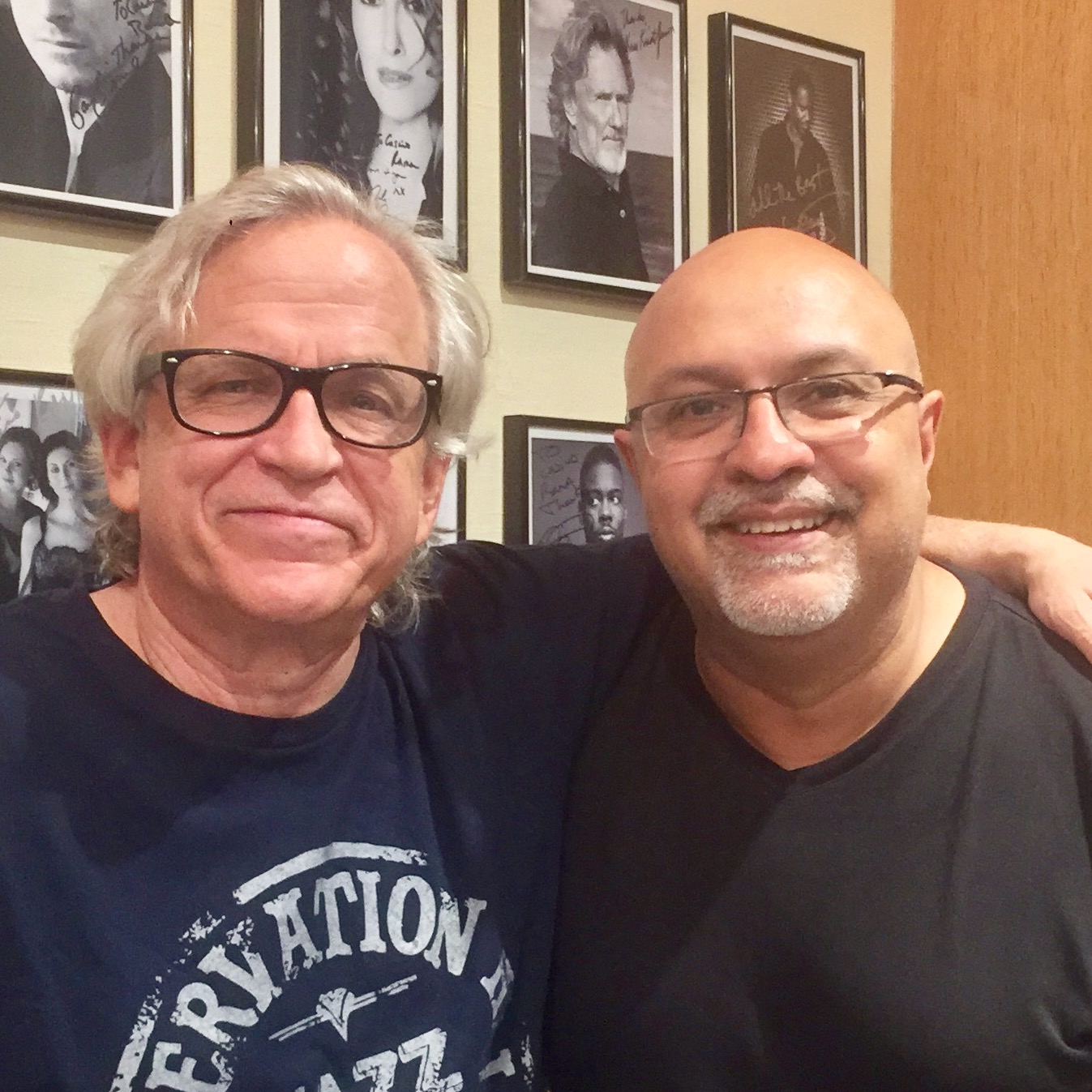 The two musicians hit it off with Amin happily showing his uniquely innovative recording techniques. It wasn't long before they could see that their creative working styles were compatible and they set about doing some experiemental pieces. One of the resulting compositions ended up on the Soundpage of Keyboard Magazine in June 1986.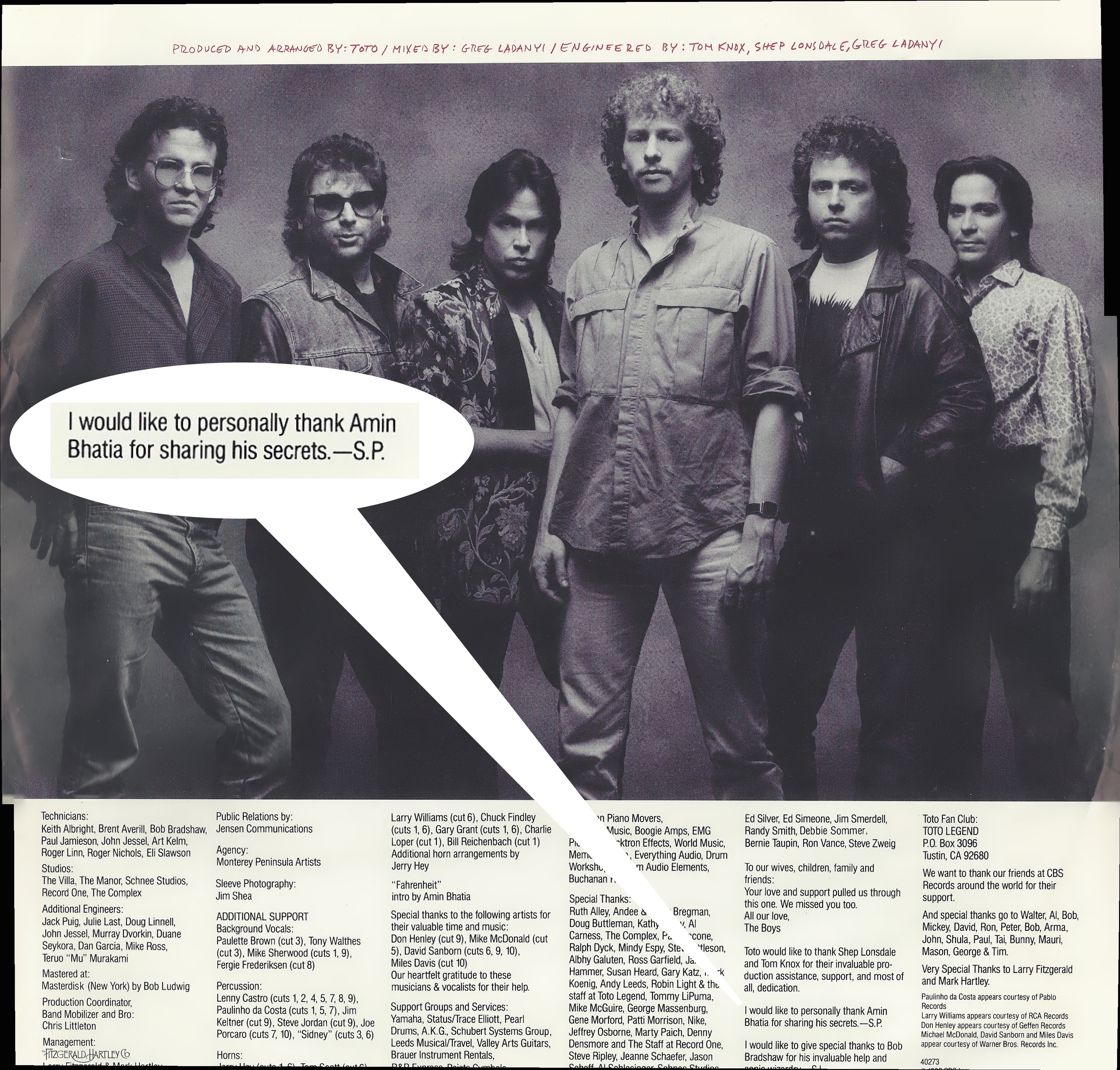 Steve Porcaro introduced Amin and his music to his band mates in Toto and encouraged the band to employ Amin's talents on some of the "Fahrenheit" album the band was working on at the time. It didn't take much encouragement and the result is the orchestral intro to the title track which is all Amin at one of Toto's studios using a combination of Moog, Roland and Yamaha synths. Even the sound effects of the "roulette wheel" were done with a Minimoog.
Steve credited Amin on the liner notes of the album: "I would like to personally thank Amin Bhatia for sharing his secrets" …S.P.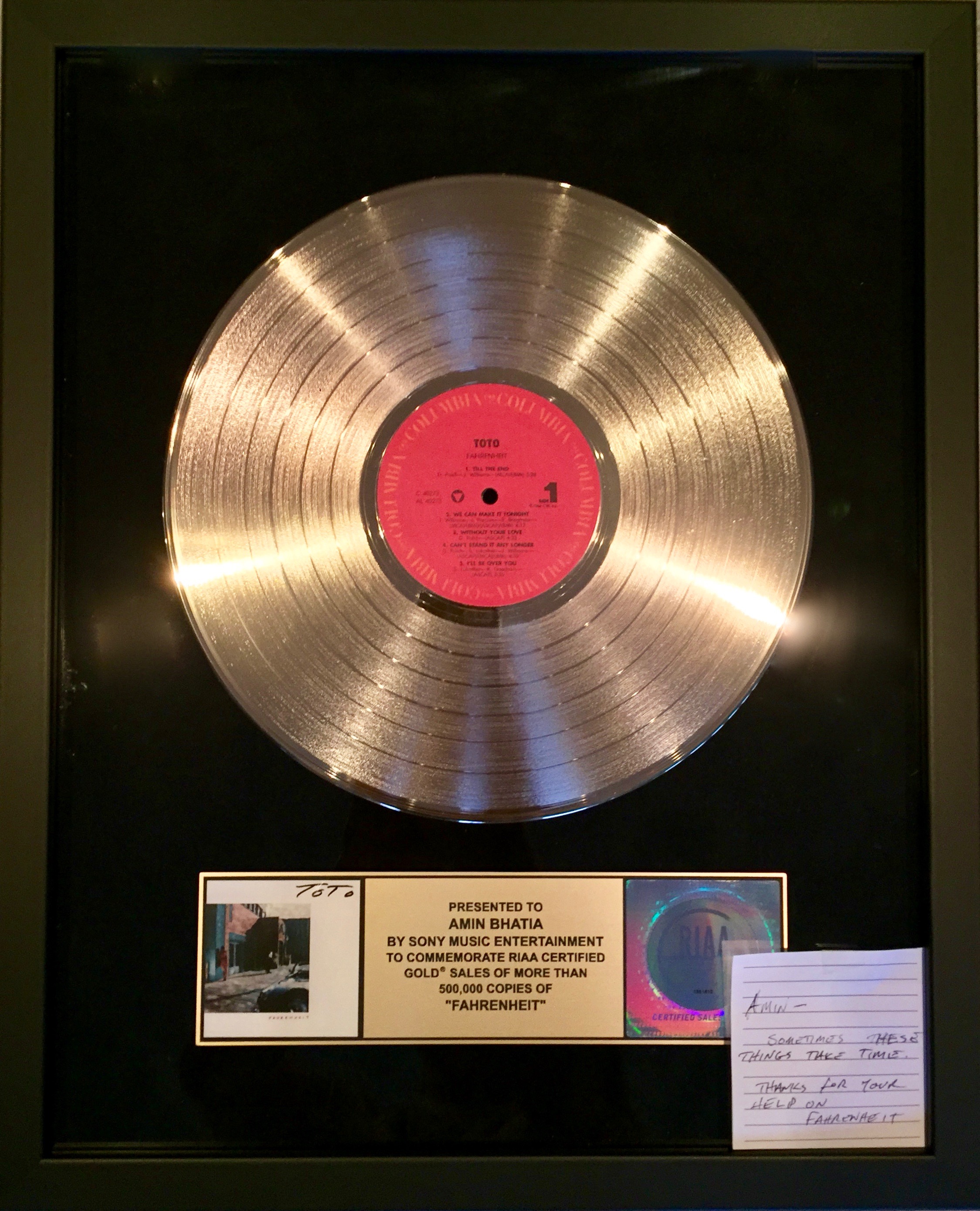 In late 2017 Fahrenheit achieved gold sales status having sold more than 500,000 copies. As thanks for his contribution Steve Porcaro surprised Amin with a gold album from Sony Music Entertainment with the note:
"Amin, Sometimes these things take time. Thank you for your help on Fahrenheit."
To this day Amin Bhatia and Steve Porcaro have remained friends and colleagues on a variety of projects and technologies and are always tech support to each other.
---
THE GIRL IS MINE (w/ DAVID FOSTER) on THRILLER
Yes its shameless name dropping and a very small contribution but it is true. Amin was barely out of his teens when he won the Roland International Competition for the second time. He was invited to Los Angeles to work with some pretty heavy talent like Steve Porcaro of Toto and mega producer and artist David Foster. What began as a few programming experiments for Mr Foster, several keyboard pieces ultimately became incorporated into the Mr Foster's contributions on "The Girl is Mine". Amin also contributed to David Foster's "Heart Strings" and "Mornin" from "The Best of Me".