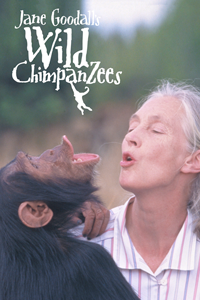 IMAX Jane Goodall's Wild Chimpanzees
This stunning IMAX film is a giant screen journey into the hearts, minds and world of these wild chimpanzees with the world's most famous field researcher, Dr. Jane Goodall. The film immerses the audience in the forest environment of Gombe National Park. Co-produced by the Science Museum of Minnesota, Science North, and Discovery Place, Inc.
This was another opportunity for Amin and his crew to work with musicians of the Toronto Symphony and Opera Orchestras. A special component was the songs provided by South African legend Johnny Clegg. Unlike the usual fare of songs being edited and thrown in at the last moment, the Clegg songs were re-recorded specifically for the film, with Amin's supervision.
The DVD of "Jane Goodall's Wild Chimpazees" has also been very warmly received with praises for the film's content, the music and for the technical transfer of a large format picture to the smaller screen. "The DTS soundtrack is simply outstanding, offering an incredibly immersive surround experience. The film's beautiful and energetic musical score is used extremely well. More than just filling the surround channels, it has been balanced so that different instruments are distinctly heard in different locations: the experience is that of sitting right in the center of the orchestra as it performs." DVD Talk.
The project involved a lot of technology and travel: Songs were first recorded by Clegg's 20 musicians and vocalists in South Africa. Other tracks were then added at Amin's studio. A 40 piece orchestral score was recorded at CBC Studio 44, with the final mix of all these elements at Technicolor's Theatre One. The blend of orchestral, Africana, song and soundscape results in a very unified music soundtrack, with melodies from the score giving way to the songs and vice versa. The music is very much a part of the film's success and Amin is very grateful to all involved:
PRODUCER/DIRECTOR: David Lickley
ASSOCIATE PRODUCER/EDITOR: James Lahti
Music Score by: Amin Bhatia
Orchestrated and Conducted by: Jamie Hopkings
Recorded and Mixed by: Cory Mandel
Additional Engineering by: Ian Rodness, Ohad Benchetrit
Assistant Engineering: Annelise Noronha, Chris Welsh, Don Dickson
Music recorded at CBC Studio's Studio 44
Music Mixed at Technicolor Theatre One
Orchestra:
Piano: Ari Posner
Flute / Piccolo: Camille Watt
Oboe: Lesley Young
Clarinet / Bass Clarinet: David Bourque
Bassoon: Michael Sweeney
Harp: Janice Lindskoog
Percussion: Blair McKay, Mark Duggan
Concert Master: Mark Skazinetsky
Violin: Paul Meyer, Adele Armin, Sandy Baron, Amy Canzoneri, Young Dae Park, Wendy Rose, Jasper Wood, Mi Hyon Kim, Angelique Toews, Debbie Kirshner, Jayne Maddison, Annalee Patipatanakoon, Erika Raum, Marc Andre Savoie, Rebecca Van Der Post, Jim Wallenberg, Viginia Wells
Viola: Kent Teeple, Beverly Spotton, Danny Blackman, Eric Paetkau, Nick Papadakis, Angela Rudden
Cello: Roman Borys, Simon Fryer, Carina Reeves, Kirk Worthington
Double Bass: Roberto Occhipinti, Charles Elliott,Tom Hazlitt
Music Contractor: Roberto Occhipinti
Special Thanks to the Following Individuals and Companies For Their Help in Making this Score Possible:
The Bhatia Family, Arlene Bishop, Diane Foster, Monica Kuebler, Long & McQuade, Saul Pincus, Ari Posner, Elinna Quan, Roland Corporation, Larry Scott, John Tempereau, Mark Wright, Yamaha of Canada.
For more information about Jane Goodall, visit the official website.
Thanks to the American Federation of Musicians in US and Canada.
At no time were any musicians harmed during the making of the score.