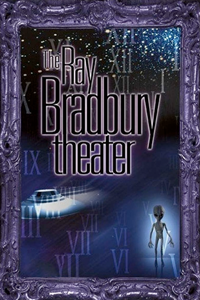 The Ray Bradbury Theatre was a groundbreaking TV series featuring self-contained tales written by the sci-fi writer Ray Bradbury (Fahrenheit 451, The Martian Chronicles). Bradbury himself adapted a series of his short stories into 30-minute episodes, and the legendary author opened every 30-minute episode with an introduction in the tradition of Rod Serling and Alfred Hitchcock.|
Amin wrote the underscore for several episodes of The Ray Bradbury Theater over two years in consultation with producer Tom Cox. The first year was from Amin's original growing studio at his home in Calgary, "now fully synchronized with time code and multi-track mixdown capability." Ah, the early 90's. A very exciting time, but it meant a lot of hours for one composer creating an electronic score.
The second year was a huge leap forward for Amin when he began working with audio producer David Greene in Toronto. David saw the potential in Amin's synthesizer layering techniques and devised methods and systems to remove much of the drudge work of multi-track setups so that both composer and producer could get the best quality in the most efficient time. To this day Amin credits David for helping him break the barrier to composing quality music under tight deadlines …. all this long before Pro Tools and computers came along.