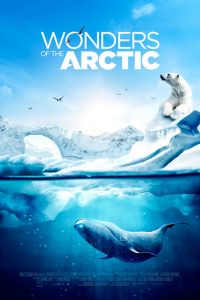 IMAX Wonders of the Arctic
Amin loved breaking away from his synthesizers to work with an orchestra again. Whenever he changes a sonic palette, the result is that each enhances the other. Producers have commented that this is one of his most romantic scores. Along with the Toronto Symphony and Opera orchestras, Amin was honoured to work with northern Canadian artists Tanya Tagaq and Jean-Paul de Roover.
Producer/Director: David Lickley
Music Score Composed by: Amin Bhatia
Music Orchestrated and Conducted by: Jamie Hopkings
Music Recorded and Mixed by: Cory Mandel
Music Engineers: Dennis Patterson, Paul Talbott, Kent Thomson
Music Editors: Paul Talbott, Cory Mandel, Amin Bhatia
Recorded at: CBC Glenn Gould Theatre
Mixed at: Technicolor Toronto
Music Contractor: Beverley Spotton
Music Representation: Vanguard Artist Management, Soundtrack Music Associates
Special Thanks: Danielle Nicole, The Bhatia Family, Arlene Bishop, Shannon Spafford, Mike Horner
Vocalists: Tanya Tagaq, Jean-Paul de Roover
Woodwinds:
Les Allt, flute
Lesley Young, oboe
Joe Orlowski, clarinet
Liz Gowen, bassoon
Guitar: Mike Francis, Jean-Paul de Roover
Harp: Janice Lindskoog
Horns: Scott Wevers, Gary Pattison, Michele Gagnon, Janet Anderson
Concertmaster: Marie Berard
Violin: Carol Fujino, Amanda Goodburn, Lynn Kuo, Angelique Toews, Jennie Baccante, Bridget Hunt, Lenny Solomon, Dominique Laplante, Hiroko Kagawa, Bethany Bergman, Jayne Maddison, Csaba Koczo, Aya Miyagawa, Nancy Kershaw, Ron Mah, Aaron Schwebel, Corey Gemmell
Viola: Dan Blackman, Kent Teeple, Chris Redfield, Bev Spotton, Angela Rudden, Jon Craig
Cello: Winona Zelenka, Paul Widner, Maurizio Baccante, Elaine Thompson
Bass: Tim Dawson, Dave Longenecker, Peter Pavlovsky
Thanks to the American Federation of Musicians in US and Canada.
At no time were any musicians harmed during the making of the score.