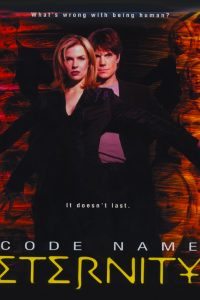 When a man is hit by a van on a country road, investigation proves him to be a living anomaly; apart from memory, he is a perfect specimen, free from disease, infection, normal bacteria or even tooth decay. Found wandering, this alien man named Ethaniel, tells psychologist Laura Keating that his home planet's destroyer is heading toward Earth to kill all of his kind and everyone on Earth in the process.
"Code Name: Eternity" was written and produced by Peter Mohan with worldwide partners from the U.S., Canada France and Germany. This one-hour action/adventure drama was created and developed in-house by Protocol Entertainment and was filmed in Canada. Despite its limited 26 episode run starting 1999, "Code Name: Eternity" remains a favorite with sci-fi fans particularly in the UK.
For a music composer it meant quite an undertaking: each weekly episode requiring a minimum of 30 minutes of music. Amin therefore enlisted the aid of co-composer Trevor Morris and music editor Tim Arthur of Magnetic North. Trevor and Tim helped make the massive amount of work in the tight deadlines possible.