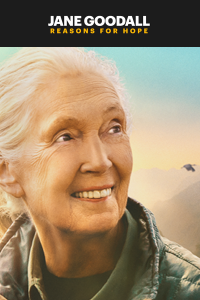 IMAX Jane Goodall's Reasons for Hope
Drawing from the work of the world's most famous living ethologist and environmentalist, Jane Goodall – Reasons for Hope (IMAX / Science North), highlights good news stories from around the globe. The film reinforces Jane's four pillars of hope that signal tremendous hope for the future: the amazing human intellect, the resilience of nature, the power and dedication of young people, and the indomitable human spirit.
The score was another successful collaboration with filmmaker David Lickley. Because of the many stories around the world, the music score covered many genres using world class musicians in Canada and in Europe. The themes in the score all germinated from a harmonic idea of minor scale going into major scale. A resolution of hope in each theme. At the IMAX premiere Jane Goodall personally thanked Amin for the beautiful score.
At the 2023 CASMA Awards, Jane Goodall's Reasons for Hope won Best Original Score for a Short Film, making it the first IMAX score to win an award.
CREDITS
PRODUCER/DIRECTOR: David Lickley
Music Score Composed and Produced by Amin Bhatia
Orchestrated by Jamie Hopkings
Mixed by Keith Ohman and Brian Eimer
Music Editor Jean-Paul de Roover
Music Engineer (Canada) Kirk Starkey
Music Supervision (Canada) Michael Perlmutter
Music Engineers (Prague) Jan Holzner and Michael Hradiský

Recorded and Mixed at
Sonic Kore Studio (Canada)
ImagesInSound (Canada)
Smečky Music Studio (Prague)
Guest Artists (Canada)
Vocal – Sarah Slean
Piano – Ari Posner
Guitars and Percussion – Jean-Paul de Roover
Flute, Bass Flute – Sara Traficante
Harp – Erica Goodman
Violin, Viola, Clarinet – Drew Jurecka
Cello – Kirk Starkey
Produced with the cooperation of the Canadian Federation of Musicians.
Music Contractor (Canada) Sara Traficante
Music Contractor (Prague) Petr Pycha
FILMharmonic Orchestra Prague
Conductor Adam Klemens
Concert Master Lucie Švehlová
Violins: Hiroko Takahashi, František Eret, Jaroslav Hájek, František Havlín, Midori Hayashi, Petr Hlaváč, Pavel Kutman, Jakub Marek, Táňa Mistrjuková, Eva Nedomová, Jan Nykrýn, Světlana Oliveira, Kateřina Penková, Eva Rohanová, Michael Romanovský, Adéla Stružinská, Miho Sugihara, Jindřich Vácha, Josef Vychytil, Vlastimil Zeman.
Violas: Jan Forest, Marek Jiříček, Adam Pechočiak, Vladimír Plíva, Jiří Poslední, Kamila Puteany, Jan Stippl, Vladislav Syčov.
Violoncellos: Marie Dorazilová, Hana Hašplová, Martin Sedlák, Roman Stehlík, Lukáš Vaněk, Viktor Vondráček.
Double-basses: Jan Buble, Michal Mandel, Zdeněk Pazourek, Pavel Pospíšil, Jan Smažík, Jan Vokoun.
Flute: Jiří Skuhra
Oboe: Zdeněk Rys
Clarinet: Aleš Hustoles
Bassoon: Jaroslav Kubita
French Horns: Jan Vítek, Jiří Havlík, Tomáš Kirschner, David Prchlý.
Special Thanks
Danielle Nicole Bhatia
Angie and Myron, Kel and Darren
Aneesa, Nathan, and Nina
Arlene Bishop, and Cory Mandel
Mike Paterson, and Company 3
For more information about Jane Goodall, visit the official website.