Mark Vail and NAMM ask "What is it that makes you compose?"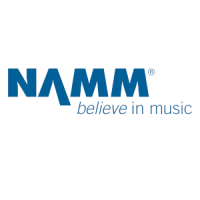 Historian and author Mark Vail and the NAMM foundation interviewed Amin for their archives.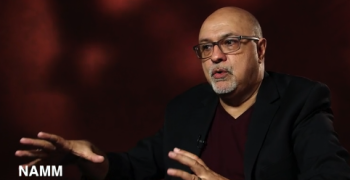 Let's Go Luna
Canadian Screen Award 2023
Best Music in Animation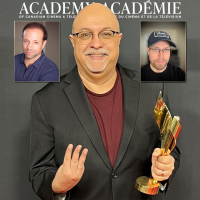 Three writers, Three years, Three Wins! Thank you Let's Go Luna for this hat trick.
Thank you Ari Posner, Kris Kuzdak, Ryan Eligh (music editor), Mike Mancuso (audio producer), Canadian Screen Awards, Vanguarde Artists Management, Soundtrack Music Associates, Screen Composers Guild of Canada, and thanks to you, our families, friends, colleagues, and fans.
LET'S GO LUNA airs Saturday mornings on PBS, TVO Kids, and other networks.
NOW AVAILABLE: THE INTERSTELLAR SUITE CONDENSED SCORE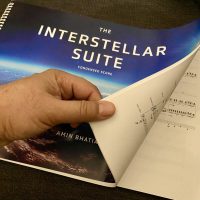 Over the last twenty-five years drum corps ensembles all over North America and Europe have delighted crowds with their unique presentations of The Interstellar Suite, and many have come home champions. There has even been interest from symphony orchestras, but that required some sort of score which Amin did not have the time and space to create …until now. After many requests here is a condensed score containing every note from the original midi files of his Roland MC-500 micro-composer. With the world-class talents of colleague and composer/orchestrator Jamie Hopkings, all the Moog Oberheim Roland and Yamaha synthesizer lines have been transcribed into something that is musically accurate, while still allowing for you to arrange your own unique interpretation.
Available as a a high-quality paper book in 9″x12″ format, 140 sheet music pages, spiral bound for lay-flat-open reading; and as a watermarked PDF. *Note to official licensees: your license includes a PDF condensed score as well as other files.
The Pros: Amin Bhatia
The Difference between
scoring for animation and live action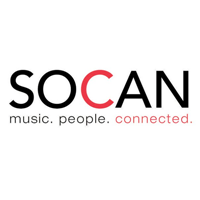 Screen composer Amin Bhatia talks about the differences in composing for animated vs live action projects in the new SOCAN series The Pros.
Snak the Show (Eps. 210)
with Bonnie Anderson, Andrea Lyons & Jorge Molina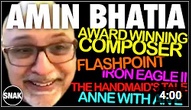 Award winning composer Amin Bhatia on winning a music competition at 19 & how it changed his life.
Amin was honoured to be on the SNAK roster. This award winning media trio is amazing and EFFICIENT. All in 4 minutes!
"Interstellar Suite is not only an incredible surround sound journey, but an amazing use of electronic keyboards that create a vibrant piece of music that tells an engaging story. Dynamics are extraordinary, with a range of about 90db. This is a must have for an audiophile 5.1 surround sound enthusiast, along with required listening for any fan of cinematic pieces". – Wesley Derbyshire, Hi-Res Edition

After years of license negotiations Amin's space epic "The Interstellar Suite" is finally available again at Bandcamp in both 5.1 and stereo formats in CD, DVD, and Blu Ray. The album is dedicated to Amin's mentors, Ralph Dyck (Roland Synthesizers) and Steve Porcaro (Toto).
In between composing music for TV shows such as Anne with an E, The Handmaids Tale, Flashpoint, Detention Adventure, The Ray Bradbury Theatre, and Iron Eagle 2, Bhatia has been fighting to unlock the rights to this as well as other releases from his earlier years.
The Interstellar Suite is a 40-minute science fiction music and sound story in the orchestral style of John Williams and Jerry Goldsmith but using analog synthesizers from the time of Isao Tomita and Wendy Carlos. In this day and age of modular and vintage synthesizers and a return to pre-digital sounds The Interstellar Suite has found a new generation of fans who perform tracks of the suite in musical ensembles and drum corps competitions world wide.
Amin is very grateful to producers James Porteous, Dan Lowe, David Greene, Frank Morrone, Paul Novotny and many other professionals who made this re-release possible. Go to Bandcamp now to get your limited release copy.
Wow, a double win at the 2021 Canadian Screen Awards!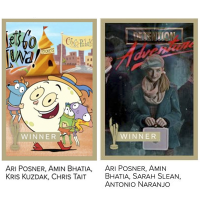 Amin Bhatia and Ari Posner are very grateful that their music on two projects from last year resonated with their peers and voters at the Academy of Canadian Cinema and Television. Animated show LET'S GO LUNA created by Joe Murray won Best Music for Animation. Amin and Ari thank LUNA-mates Kris Kuzdak and Chris Tait, 9 Story Media Group, Brown Bag Films, Mike Mancuso, and Ryan Eligh for their top-notch work on this fun show.
The following night DETENTION ADVENTURE took home the award for Best Music, Fiction, the same category that Amin and Ari won for ANNE WITH AN E in the previous year. So more thanks to another top notch team including co-writers Sarah Slean, and Antonio Naranjo, creators Joe Kicak, Lauren Corber Norris and Ryan West, and to Pirate Toronto and UrbanPost for the music and final mixes.
As always, continued gratitude to Amy Stulberg, Tina Horwitz and everyone at Vanguarde Artists Management, as well as to Soundtrack Music Associates in the U. S. Amin thanks his "Composer Wrangler" Arlene Bishop and his "Office Amin-istrator" Danielle Bhatia. Thanks to everyone at the Academy, to family, friends, and everyone we've met along the way. To our nominee friends Meiro Stamm, Neil Parfitt, Todor Kobakov, Tom Third, and Trevor Morris, we are extremely honoured to be in your company.
Celebrating two CSA wins means celebrating so many characters in our creative community. As we come out of these Covid times there will be many people to thank and celebrate with in person soon!
Amin is honoured to be invited to the Bob Moog Foundation Board of Advisors. "My very first synthesizer was a Minimoog and it literally changed my life. Years later I actually met and got to know Bob Moog. To now be able to give back to a foundation based on both Bob the man and Bob the inventor gives me immense joy and satisfaction." He joins the existing group of 40 leaders from diverse backgrounds, and is the first Canadian on the board. And, Amin's induction happens in the same year as Dr. Gerhard Lengeling. "As a Logic software user myself this is similar to when I hooked up my Minimoog to an Emagic Unitor 8, ….though much more exciting!"
Welcome To The Music Podcast
What started as advice in film scoring soon went off the rails into stories about Steve Porcaro, Eddie Van Halen and a painted Poly800 synthesizer! Amin Bhatia joined Gregg Tilston and, at times, Karim Kanji (when Gregg and Amin were not geeking out over gear) in this special episode of Welcome To The Music.
THE SCREEN COMPOSER'S STUDIO PODCAST
Amin Bhatia - The Comeback Kid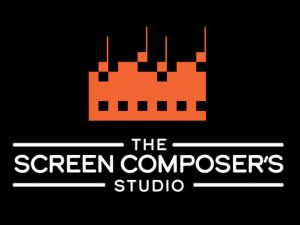 "Amin's life story is worthy of its own movie, including narrow escapes from a violent African dictator, going from being a self-proclaimed "nerd" recording analog synth epics alone in his basement in Calgary to making an appearance on one of the biggest pop albums of all time, and the truly weird, risky, and hilarious way he wrote the theme for a show that would earn him an Emmy nomination."
Varèse Sarabande Records releases a soundtrack of favourite songs and original music by composers Amin Bhatia and Ari Posner for Anne with an "E". The CD is available from Varese Sarabande and on Apple Music.
When Toto's Fahrenheit achieved gold sales status having sold more than 500,000 copies and Steve Porcaro surprised Amin Bhatia with a gold album from Sony Music Entertainment, in thanks for Amin's contribution to the iconic album.
"Musical Toronto: Canada's Homepage for Classical Music" spoke with with Amin Bhatia and Ari Posner about their working relationship and their new take on an old story.
Amin joined legendary electronic music titans, Suzanne Ciani and Larry Fast contributing performance demos for MOTU's Bob Moog Foundation Encore Soundbank. The soundbank features over 25 legendary artists and sound designers, with proceeds from its sales supporting the educational and historical preservation projects of the Bob Moog Foundation. Each artist demo ranges in genre and style using only sounds from the database, from Ciani's beautiful and triumphant Aqua Alta and to Fast's shimmering sonic panorama Spheroid, to Bhatia's spirited symphonic romp Moog Fiesta. Sounds range from Moog® and Buchla® modulars to the Minimoog®, Korg® MS-20, Yamaha® CS-80, Sequential Circuits® Prophet, and EMS® Synthi A and VCS3.
Being asked to contribute to the Omniverse Sound Library was a chance for Amin to re-visit his days of programming and showcasing actual synthesizers. In this case the library was entirely virtual using Spectrasonics popular Omnisphere virtual synthesizer for PC, Mac and iPad and the Plug In Guru soundbank series created by renowned programmer/synthesist John Lehmkuhl. John took a unique approach in that the library supported a sci-fi story that he made up in his head and used that as a motivation for sound styles, music demos, graphics and even a comic book story to support it. Says Amin "being a sci-fi geek I was thrilled to work with John on Omniverse III. When he told me the story of the 'Unverse of Evil and the 'Aurora Borealis Light of Good', well the music pretty much wrote itself." Battle for the Omniverse is a tribute to many Jerry Goldsmith chase cues and 80% of the sounds and instruments come from John's amazing library.