THE INTERSTELLAR SUITE CONDENSED SCORE
Ring-bound Book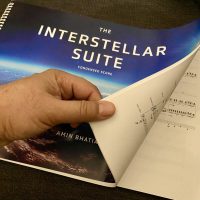 After many requests, at long last here is a condensed score containing every note from the original midi files of Amin's Roland MC-500 micro-composer. All the Moog Oberheim Roland and Yamaha synthesizer lines have been transcribed into something that is musically accurate, while still allowing for you to arrange your own unique interpretation. This music score book is produced on high-quality paper in 9″x12″ format, 140 sheet music pages, spiral bound for lay-flat-open reading for arrangers and armchair conductors. Also available for download as a custom watermarked PDF.
Credits
All tracks composed and arranged by Amin Bhatia (BMI)
Published by Bhatia Music Inc (SOCAN)
Orchestral transcriptions by Jamie Hopkings
Illustrations by Alexander Preuss
Additional artwork by Byron Kent Wong and The Twelve Steves
Printed by OCP Custom Graphics
**Note for music ensembles licensing The Interstellar Suite for presentation: please link to Soundtrack Music Associates <email > for the "Arranger Package" which is the PDF condensed score, plus Sibelius XML and MIDI files.

THE INTERSTELLAR SUITE LIVE AND OTHER LICENSING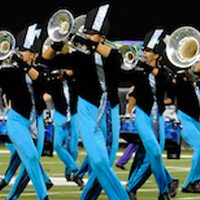 Soundtrack Music Associates will provide performance licenses for The Interstellar Suite, Virtuality, and Requests from the Vault for Marching Bands, Ensembles, and Orchestras.
Containing every note from the original midi files of Amin's Roland MC-500 micro-composer and as part of The Interstellar Suite official licensor's Arranger Package exclusively from Soundtrack Music Associates:
The Interstellar Suite Condensed Score PDF download
Midi files
MP3 stem tracks
(Pictured: Carolina Crown Drum & Bugle Corps)
THE INTERSTELLAR SUITE
25th Anniversary Edition in Surround Sound, Dual Pack DVD/Blu Ray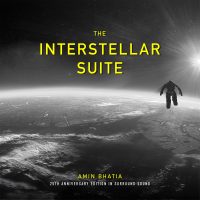 Available for a limited time, anniversary dual pack includes two discs (blu-ray, DVD) containing DTS 5.1, Dolby Digital 5.1 and Stereo versions of the 25th Anniversary surround sound edition.
Accompanying the audio are feature track videos Launch and Walking in Space directed by Byron Wong; beautiful artwork by Alexander Preuss; and documentary exclusives.
The 25th Anniversary Edition was remixed by Frank Morrone from the original multi-tracks, mastered by Bernie Grundman. All tracks and bonus features are 96khz 24 bit audio.
THE INTERSTELLAR SUITE COMPANION LINER NOTES COFFEE TABLE BOOK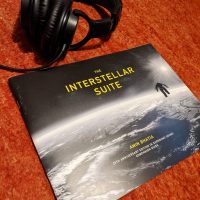 Available for a limited time, The Interstellar Suite 25th Anniversary Editions can be enhanced through this companion guide book. The coffee table soft cover book illustrates some of the finer details of production, inspirations, and artwork.
It features introductions by Toto's Steve Porcaro and Keyboard Magazine's Dominic Milano; track by track details by electronic historian Mark Vail; technical diagrams and notes; the script for all the dialogue used in the album; press clippings, letters from fans and other artists; and illustrations by award-winning artist Alexander Preuss.
At 8 1/2″ by 11″ this 44-page full-colour release is a large format book that serves as the ultimate liner notes!
THE INTERSTELLAR SUITE Stereo Limited Edition Compact Disc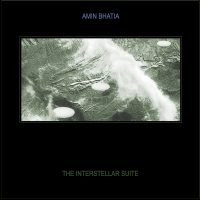 Available for a limited time, The Interstellar Suite in stereo on compact disc.
After LP, CD, and cassette versions disappeared from distribution, The Interstellar Suite was resurrected, and remastered by Amin's mentor, award winning producer/engineer David Greene.
REQUESTS FROM THE VAULT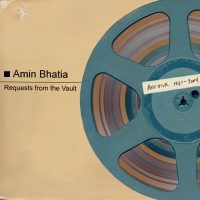 Requests from the Vault: a Retro Voyage into Vintage Synths and Unreleased Demos by Amin Bhatia was compiled from Amin's audio archives includes curated pieces remastered from the original sources using today's state of the art equipment, hardware and software from
Universal Audio
and noise reduction by
Izotope
. Audio downloads through bandcamp in 96k 24bit audio.
VIRTUALITY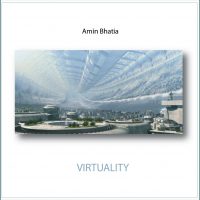 Amin's long awaited follow-up to the Interstellar Suite is a two-side concept album. Side One includes collaborations with legendary keyboardists Steve Porcaro and Patrick Moraz. Side Two travels through time and technology with Bolero Electronica. Recorded by Amin Bhatia and mixed by award winning producers David Greene and Jeff Wolpert. The album cover art "The Return To Abalakin" is by artist Alexander Preuss. Endorsed by the Bob Moog Foundation. Audio downloads through bandcamp in 96k 24bit audio.
THE PLANET: MUSIC FROM THE FILMS OF DAVID LICKLEY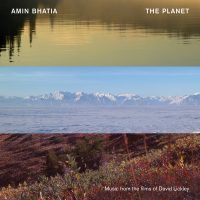 The Planet: Music from the Films of David Lickley, composed by Amin Bhatia and distributed by Triplet Records, features music from some of the films of filmmaker/biologist David Lickley. The music is a symphonic soundtrack of suites from three Canadian films about the environment and eco-system of our planet, composed by Amin Bhatia, and features a full size orchestra comprised of Canada's finest session and orchestral musicians.
FLASHPOINT THEME: REMIX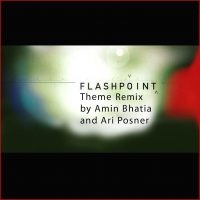 A remix of the popular theme to the fan favourite TV series, composed by Amin Bhatia and Ari Posner.
Inspired by the real-life Emergency Task Force Strategic Response Unit (SRU). This popular series is available on Netflix, YouTube, iTunes, and on DVD.
ANNE WITH AN E SOUNDTRACK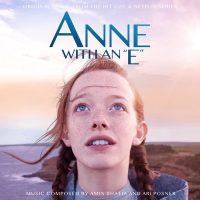 "Anne with an E" Soundtrack, released by Varèse Sarabande Records at the beginning of 2020, is a collection from season I and II of some of the favourite songs and series' score by composers Amin Bhatia and Ari Posner.