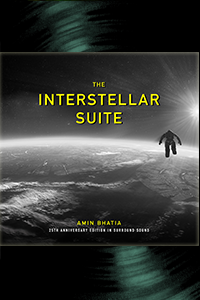 The Interstellar Suite
"…rating right up there with Wendy Carlos
and Isao Tomita."
Mark Vail, Keyboard Magazine
Amin Bhatia originally wanted to work with an orchestra but couldn't find space for them in his basement, so he settled for synthesizers instead. Before the advent of midi, synthesizers played one note at a time, and Bhatia simulated luscious orchestral music on a four-track recorder and a Minimoog.

In 1981, Amin submitted his unusual sci-fi sounding orchestral work for a synthesizer competition sponsored by Roland and won first prize out of 500 entrants worldwide. The judges included Oscar Peterson, synth veterans Robert Moog and Ralph Dyck, and Isao Tomita. The resulting exposure launched Bhatia's music career, leading to projects with David Foster, Steve Porcaro, and a solo album on Capitol Records' Cinema label titled The Interstellar Suite.

A small run of The Interstellar Suite was distributed worldwide in 1987 moments before the Cinema label closed its doors. The popularity of The Interstellar Suite, however, continued to grow on its own.

Many things made this recording unique: One was its lush orchestral stylings attributed to Amin's love of Jerry Goldsmith and John Williams film scores. Another unique element was Amin's insistence on using analog synthesizers in a world where everyone else had gone digital. Rather than join the trend of sampling and abusing orchestral phrases, Amin combined and layered hundreds of electronic parts to achieve a warm orchestral sound that was not stolen from an orchestra. To this day Amin still gets requests from listeners and programmers asking for the orchestral sample libraries used. He has a hard time convincing them that it was all him.

The Interstellar Suite 25th Anniversary Surround Sound Collector's Edition

The 25th anniversary of The Interstellar Suite was marked with a special Limited Edition DVD & Blu-ray Dual Pack with a Companion Book. The dual pack includes DTS 5.1, Dolby Digital 5.1 and Stereo versions of the 25th Anniversary version. Remixed by Frank Morrone from the original multi-tracks, mastered by Bernie Grundman. All tracks and bonus features are 96khz 24 bit audio. There are track videos and documentary exclusives.


After much legal wrangling The 25th Anniversary release and companion book are now back in circulation! This and other releases are now available at Bandcamp.