"Amin's music is a breath of fresh air."
Oscar Peterson
"The standard has been set."
Steve Porcaro
"…rating right up there with Wendy Carlos and Isao Tomita."
Mark Vail, author of Vintage Synthesizers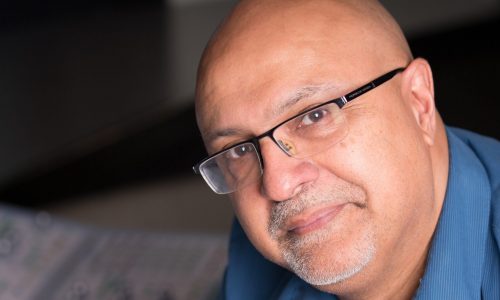 ABOUT AMIN
With hundreds of scores to his credit, Emmy-nominated composer Amin Bhatia has written music for film, television, radio, theatre, and albums, for several decades, balancing passion with precision.
Born in 1961 in London England, he grew up in Kampala, Uganda until his family immigrated to Canada to escape political turmoil. His childhood was full of music from many cultures and his gift of perfect pitch gave him a unique ability to learn from them. At a young age he gravitated towards orchestral music, but with the limitations of not being able to fit an orchestra into his family home he obtained a Minimoog synthesizer instead which led him to multiple prizes in the Roland International Synthesizer competition and projects with Steve Porcaro of Toto and the infamous David Foster.
Some of his synth programming even ended up on one of the most celebrated albums of all time; Michael Jackson's Thriller. He eventually migrated to live players and acoustic scores, working with full size orchestras in Toronto, Munich, and Bratislava. Bhatia's music has been likened to the harmonic inventiveness of Jerry Goldsmith and the technical prowess of Hans Zimmer.
His affinity with music and technology brought him to composing for film and television, composing various projects such as the CSA award winning series Anne with an E for CBC/Netflix; the internationally-acclaimed series Flashpoint for CTV and CBS as well as the CBC series X Company all while creating guest compositions for the hit series The Handmaid's Tale (Hulu), Queer as Folk (Alliance) and The Ray Bradbury Theatre (Showtime/Amazon). His feature film credits include Storm (Cannon), Iron Eagle II (Alliance/Tristar), Rescue Heroes: The Movie (Nelvana/Fisher Price), John Woo's Once a Thief (Alliance/CTV) and many IMAX orchestral scores for award-winning filmmaker David Lickley.
Amin and long-time friend and collaborator Ari Posner have won numerous Canadian Screen Awards for their work on Anne with an E (CBC), Detention Adventure (CBC), Flashpoint (CTV/CBS) and Let's Go Luna (PBS), as well as an Emmy Award nomination for the Disney sci-fi anime series Get Ed. Other collaborators include Arlene Bishop, Johnny Clegg, Ralph Dyck, Sarah Slean, and Meiro Stamm.
"I love the collaborative process in music for film and TV," says Amin. "Unlike songwriting and concert music, you have such inspiration from the film itself." When asked what the future holds, he replied "I'm a sci-fi nerd at heart so I'd love to expand into video games and virtual reality. But it's all about the characters, no matter what the setting, so I just love making music that serves the story."


His solo albums The Interstellar Suite and Virtuality pay homage to his love of science fiction TV, and film scores and many album tracks have become standard repertoire in music competitions. Amin is working next on a full-scale orchestral version of The Interstellar Suite album.
Bhatia has also worked as a consultant to many synthesizer companies and is the first Canadian on the Board of Advisors for the Bob Moog Foundation. He also recently dusted off his acting resumé with speaking roles in Christoph Waltz's Georgetown, and CBS's Blood and Treasure.
After being mentored by such luminaries as Steve Porcaro, Oscar Peterson, and David Greene, Amin is now giving back with workshops at various institutions including the Canadian Film Centre (CFC). He resides in Toronto with his wife, actor Danielle Nicole, and two very loyal but neurotic cats.
CREDITS
DETENTION ADVENTURE CBC Gem/HBO Max, Broken Compass Films
ANNE with an E CBC/Netflix, Northwood Entertainment
LET'S GO LUNA 9 Story Entertainment/Brown Bag Films/PBS/TVO
THE HANDMAID'S TALE (additional music) Gilead Productions/MGM Television
BLOOD HONEY Film Directed by Jeff Kopas, Vitality Media Productions/Lumanity Films
X COMPANY Flashbang/Temple Street/CBC
BLOOD AND FURY: AMERICA'S CIVIL WAR America's Hero Channel
FLASHPOINT CBS/CTV/Ion/Pink Sky/Avamar
THE INTERSTELLAR SUITE in 5.1 Surround 25 year Anniversary Triplet Records
See More Credits


WONDERS OF THE ARCTIC (IMAX 3D) Film Directed by David Lickley, Science North/Sci Minnesota
WILDFIRES 4D Multi-FX Ride Film Directed by David Lickley, Science North
MYSTERIES OF THE GREAT LAKES (IMAX) Directed by David Lickley, Science North/Sci Minnesota
VIRTUALITY Double Concept Album including Bolero Electronica, Bob Moog Foundation
GET ED (2 Seasons) Walt Disney/Red Rover, EMMY Nomination (w Ari Posner)
RECIPE FOR A PERFECT CHRISTMAS Directed by Sheldon Larry, Lifetime Television (w Ari Posner)
QUEER AS FOLK Guest Composer Season 5 Alliance Atlantis/Bravo
KING (2 Seasons) Decode Entertainment/Teletoon, Gemini Award Winner (w Ari Posner)
JAMBO KENYA! Documentary Directed by Lalita Krishna, Insync Video/CBC
DETENTION Directed by Sidney J Furie, GFT Entertainment (w Meiro Stamm)
RESCUE HEROES: THE MOVIE Directed by Ron Pitts Nelvana
IN THE DARK Directed by Leonard Farlinger, Shaftesbury Films/CTV. Gemini Award Winner
FRANNY'S FEET (3 Seasons) Decode Entertainment/Teletoon, Gemini Nomination (w Ari Posner and Meiro Stamm)
JANE GOODALL'S WILD CHIMPANZEES (IMAX) Directed by David Lickley Science North
GOING BACK/UNDER HEAVY FIRE Directed by Sidney J Furie, GFT Entertainment
THE ZACK FILES Series Theme Decode Entertainment/Fox Network (w Ari Posner)
A COLDER KIND OF DEATH Directed by Brad Turner, Shaftesbury Films/CTV
THE WANDERING SOUL MURDERS Directed by Brad Turner, Shaftesbury Films/CTV
CODE NAME: ETERNITY Series – 26 episodes, Dune/Protocol, UFA/Warner Bros (w Trevor Morris)
POWER PLAY Series – 26 episodes, Alliance Atlantis/CTV
TALES FROM THE CRYPTKEEPER Series – 39 episodes, Nelvana/ABC
GOLD FEVER (IMAX) Directed by David Lickley, Science North/SK Films/Shaftesbury Films
JOHN WOO'S ONCE A THIEF Series – 22 episodes, Produced by William Lauren and Glenn Davis, Alliance Atlantis/CTV/Showcase Gemini Nomination
KUNG FU, THE LEGEND CONTINUES Series – additional music, Warner Bros/FOX
GRIDLOCK Directed by Sandor Stern, Alliance Atlantis/CTV/NBC, Gemini Nomination
JOHN WOO'S ONCE A THIEF Gemini Nomination Directed by John Woo, Alliance Atlantis/FOX
FREE WILLY Series – 26 episodes, Nelvana/ABC
THE AWAKENING Directed by George Bloomfield, Alliance Atlantis/Harlequin/CBS/CTV
SHOCK TREATMENT – Pilot Produced by William Lauren and Glenn Davis, Alliance/CTV/ CBS
A PASSION FOR MURDER/BLACK ICE Directed by Neill Fearnley, Prism Prod/Saban
ORDEAL IN THE ARCTIC Directed by Mark Sobel, Alliance Atlantis/ABC/CTV
CAFE ROMEO Directed by Rex Bromfield, Republic Pictures
STRANGER IN THE MIRROR Directed by Charles Jarrott, Paragon/Spelling/ABC/CTV
ANYTHING FOR LOVE/JUST ONE OF THE GIRLS Directed by Michael Keusch, Saban/FOX
THE RAY BRADBURY THEATER Series -11 episodes, Showtime/Amazon
IRON EAGLE II Directed by Sidney J Furie, Tri-Star/Alliance Atlantis/Carolco
STORM Award winner AMPIA, Directed by David Winning, Cannon Films/Groundstar
THE INTERSTELLAR SUITE Vintage Synth Concept Album, Remastered by David Greene, Capitol/Cinema Records
NASHID WORLDWIDE ANTHEM Orchestral Arrangement and Production, Aga Khan Foundation
CFNY 102.1 THE EDGE Special Projects Producer/Sound Designer, Maclean Hunter
VANCOUVER PLANETARIUM The Interstellar Suite Full Length show, HR MacMillan Planetarium
BENSON AND HEDGES SYMPHONY OF FIRE The Interstellar Suite (Australia Presentation)
1988 WINTER OLYMPICS Synth Performance and Programming for Tommy Banks
TOTO: FAHRENHEIT Guest synthesist and programmer to Steve Porcaro CBS Records]
THE MANOR MARCH Keyboard Magazine – Soundpage with Steve Porcaro
FM96/CKXL 6 CLIO awards, Producer/Sound Designer Moffat Communications
DAVID FOSTER: THE BEST OF ME Synth programming for David Foster, MFSL Records
MICHAEL JACKSON: THRILLER Synth Programming for David Foster, Epic Records
DESERT MARCH OF THE MILITARY First Prize Roland International Synthesizer Competition, Roland Japan
FLIGHT BEYOND THE STARS Grand Prize Roland International Synthesizer Competition, Roland Japan

AWARDS AND NOMINATIONS

Canadian Screen Award Winner (2022) Best Original Music, Animation Let's Go Luna
Canadian Screen Award Winner (2021) Best Original Music, Fiction
 Detention Adventure
Canadian Screen Award Winner (2021) Best Original Music, Animation Let's Go Luna
Canadian Screen Award Winner (2020) Best Original Music, Fiction
 Anne with an E
Canadian Screen Award Nomination (2019) Best Music for a Dramatic Series or Program
 Anne with an E
Canadian Screen Award Nomination (2018) Best Music for a Dramatic Series or Program
 Anne with an E
Canadian Screen Award Nomination (2018) Best Music for a Dramatic Series or Program X Company
Canadian Screen Award Nomination (2017) Best Music for a Dramatic Series or Program X Company
Canadian Screen Award Nomination (2016) Best Music for a Dramatic Series or Program X Company
Canadian Screen Award Winner (2012) Best Music for a Dramatic Series or Program
 Flashpoint
Emmy Award Nomination (2006) Outstanding Main Title Theme Music
 Get Ed
Gemini Award Winner (2006) Best Music Underscore for a Program 
In the Dark
Gemini Award Winner (2005) Best Music for an Animated Series
 King
See More Awards and Nominations


Gemini Award Nomination (2011) Best Music for a Dramatic Series or Program Flashpoint
Gemini Award Nomination (2010) Best Music for a Dramatic Series or Program Flashpoint
Gemini Award Nomination (2009) Best Music for a Dramatic Series or Program Flashpoint
Gemini Award Nomination (2005) Best Music for an Animated Series Franny's Feet
Gemini Award Nomination 1999) Best Music for a Dramatic Series 
John Woo's Once a Thief
Gemini Award Nomination (1998) Best Music Underscore for a Program
 John Woo's Once a Thief
Gemini Award Nomination (1997) Best Music Underscore for a Program 
Gridlock
Ampia Award (1991) Best Music for TV The Ray Bradbury Theatre
Ampia Award (1987) Storm
CLIO Award (x 6) (1983-1986), Producer/Sound Designer 
Moffat Communications
Roland International First Prize (1982), Synthesizer Competition Roland Japan
Roland International Grand Prize (1981), Synthesizer Competition Roland Japan

High-resolution 300dpi image downloads