The fourth nomination was the charm for composers Amin Bhatia and Ari Posner, as the team won the 2013 Canadian Screen Award for Best Music Score for the Flashpoint episode "Day Game." The pair had been nominated for three previous Gemini Awards for earlier seasons but this is their first win. The gala event also included a special recognition award from the Academy of Canadian Cinema and Television for Flashpoint's groundbreaking contribution to the industry.
With multiple nominations in virtually every possible category over its five years, previous music nominations include the episode "Acceptable Risk", "One Wrong Move", and "Planets Aligned". The score features beautiful performances by Toronto singer Leah Salomaa, and world renowned cellist Kirk Starkey.
Flashpoint is a police drama about an elite group of highly-skilled enforcement police officers that rescue hostages, bust gangs, and defuse bombs. They are known as the Strategic Response Unit (SRU). The team is inspired by real-life emergency task forces trained to get inside a suspect's head and find their emotional breaking point, or the "flashpoint".
The show was written and created by Mark Ellis and Stephanie Morgenstern, and produced by Anne Marie La Traverse and Bill Mustos for Pink Sky/Avamar Entertainment.
The music team was assisted by music editor Joe Mancuso, with song placement and music supervision helmed by Chris Robinson and Andrea Higgins of Arpix Media.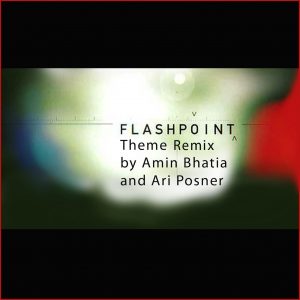 Flashpoint Theme by Amin Bhatia and Ari Posner
available on iTunes and Apple Music
Canadian Screen Award and multiple nominations for Best Series Music