REQUESTS FROM THE VAULT by Amin Bhatia
A Retro Voyage into Vintage Synths and Unreleased Demos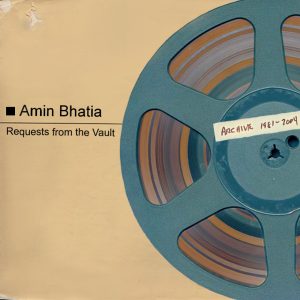 Requests from the Vault by Amin Bhatia was made available privately several years ago to early subscribers to the Interstellar Suite surround sound project, and now is available to all at iTunes, Apple Music and other online retailers. Among other things, the collection celebrates the music innovators and programmers of the early 1980s. As one of the community of analog keyboard aficianados spending countless hours experimenting with new sounds, Amin created demos that quietly became underground favourites still requested by friends and fans more than three decades later.
This retro release from Amin Bhatia's audio archives includes curated pieces remastered from the original sources using today's state of the art equipment, hardware and software from Universal Audio and noise reduction by Izotope. The vintage music collection includes some of Amin's earliest Minimoog experiments, traveling through arrangements and compositions prepared to demonstrate Roland products, and also includes completed tracks that were written for but excluded from the 2005 Virtuality release.
While many of the sounds heard in this collection are now readily available on a variety of easily accessed platforms – like smart phones – the sounds showcased here are presented in their original analog form, as tweaked, massaged and recorded some more than thirty years ago.
The Requests from the Vault by Amin Bhatia liner notes (6MB pdf download), is a track-by-track explanation of the original gear used, with some anecdotes of technological and social context, along with some of Amin's favourite photos of the era.
Award-winning composer Amin Bhatia now writes and records music for film and TV, working with orchestras both real and virtual, and is celebrated for his seminal analog synth album the Interstellar Suite and its sequel Virtuality. Amin was just a teenager when he was 'discovered' in the early 80's through the Roland International Synthesizer Competition and thrust into a new world of renowned performers like Oscar Peterson, composers like David Foster, and synthesists like Steve Porcaro, with whom he recorded one of the tracks included. Porcaro and Bhatia remain friends who still share insights into new and old tech.
Amin Bhatia's current-day music has garnered many awards and nominations, and this behind-the-scenes look at his early work exhibits his deep understanding of the complexities in music composition and his grasp of scope, cinema, and dynamics that he brings to his contemporary projects.
We hope that you enjoy this little bit of technological time travel.